This weekend has been busy and pretty sociable really (despite lots of work!) I have chatted to strangers (about knitting socks, vintage buttons, buying beads in Afghanistan, and coming from Maidstone)-in a junk shop and on the market. My brother came up, as he was riding his tandem in a charity event today-for stroke victims. He had his friend who had had a stroke, on the back of his tandem. They survived the day-it sounded pretty hard work to me as half of it was just my brother riding the bike with a heavy passenger. Good thing to do though! He was telling us about something he hopes to compete in next year in Colorado, called the Leadville 100. ("Where attitude meets altitude")It is a run of 100 miles high up in the mountains. He did a similar thing in Scotland last year-45 miles-with his friend who wants to do it. Apparently it is invitation only but his friend has a plan! We looked at the stats of the 2009 race and I was actually quite excited on his behalf-and in awe as I could never do anything like it.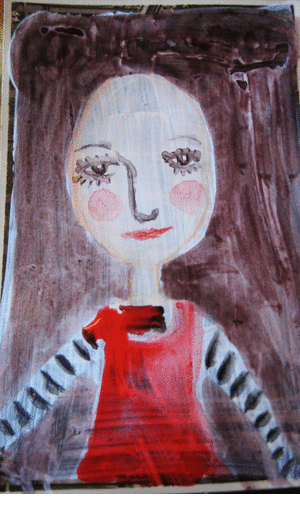 This animation isn't about sociability-well unless talking to dolls counts as being sociable or is it just a bit mad? Anyway,
Apeironia
, the second doll in the
TDP
I have worked on, is finally done and packed ready to leave. This is the little postcard in progress that I made to go with her. The animation makes me think of the brain teaser thing that Kat sent me on Friday to test my brain age-it is 41-yes! (I am a secretly very competitive person) My real age is 45 ha ha!
Here
is a link, should you wish to measure your brain age! There is a game where you have to identify what is changing in the picture you are looking at-starts off quite easy-not as much so as my animation-but becomes very difficult quite quickly. A fun way to spend 2 minutes.
I made another sale-I get very excited when I sell something-and very grateful that I am not trying to make my living through making things! Little felted horse is off to Connecticut tomorrow. Weird to think these things end up in houses of people I will never meet, in places I most likely will never go.
I keep meaning to get some business cards made, but never get around to it. So each time I send off something I have sold, I improvise. Today I used this lovely old postcard of Buckingham Palace, with a pogo photo of the horse on the back.
I love the way the trees frame the building.
These roses are a gentle and lovely thing to calm you before you see what comes next. As I said-it has been sociable-today Andy's Mum was at his Aunt's en route back from her holiday. We popped round to see her and his
Aunt
. His sister was there, and also cousins, children and some visitors from Malawi. We had a lovely lunch and a fun time. Andy's cousin is taking a practical nursing exam on Tuesday and he had this doll to practice on. It is an amazing piece of equipment-with a
peelable
front revealing organs, holes and places to put tubes and things,
injectable
bits and a scarily realistic mouth. I was interested in it as a doll I suppose-it was semi ball jointed. What makes it so disturbing I think, is the fact that it is really big, yet to me it looks like a baby. I wish I had tried to see if the legs could go in any other pose. I was so busy poking and prodding it, and being shown its innards by the four year old son of Andy's other cousin, that I didn't think of it.